October 24, 2022
GeekVape Aegis Eteno E100 Pod kit + Geekvape P Series Coils
I recommend pausing again in the news and catching up in the update section. The newest are those devices that we are already familiar with, but after the official release they received new designs or other designs. A pod system is on the agenda, however, an atomizer still squirms into the order – Geekvape E100.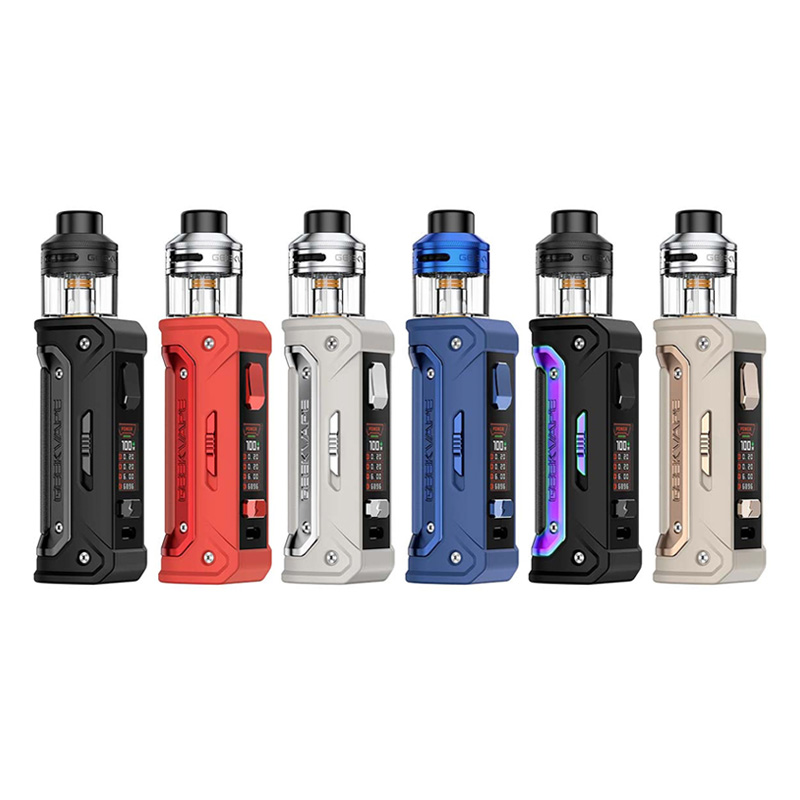 A very recent novelty of the brand, which continues the tradition of the legendary Aegis family. Powerful, protected on all fronts, ergonomic and even presenting a new cartridge platform. In a word, everything is with him.
Parameters
Dimensions: 135 x 39 x 33mm
Weight: 150g Case
material: zinc alloy + plastic + eco
leather1 x 18650
Chipset: AS 3.0
Cartridge capacity: 4.5ml
Evaporator resistance: P Coils
Power: 5 – 100W
Voltage range: up to 7.5V Peak
current: 35A
Operating mode: Smart, Power, TC (NI200, SS, TI), TCR , Bypass, VPC
Supported resistance: 0.1 – 3.0Ω
Today we're talking about GeekVape E100 pods, new color cartridges and metal bases with standard 510th connectors. I "sincerely" wait for the manufacturer to "think" and launch a pod tank based on this cartridge system.
One, no – tanks are sold separately, bases are sold separately – it is not enough to say a strange decision.
Geekvape P Series Coils The brand's latest novelty, joining the brand's pilot flagship in the field of full-fledged box mods. Asian-European, powerful, cute, and even comes with its own chip-top-loading vaporizer.
There are only three release color colors. Instead, it's better to say that the manufacturer showed them the aforementioned flagship. However, for the separate release of the new non-service, a wider variety of shades are prepared.
Other kits we recommend:
uwell crown d pod mod
vaporesso luxe x r