August 2, 2023
Dummy Vapes 8000 Disposable Vape Review: An Unforgettable Melodic Vaping Journey
In the world of vaping, Dummy Vapes 8000 has taken the industry by storm with its innovative and stylish disposable vape devices. Inspired by the iconic 6ix9ine, these devices not only deliver a bold and eye-catching look but also provide a vaping experience like no other.
The Perfect Blend of Style and Performance
Dummy Vapes was born out of a creative collaboration with famous rapper Tekashi 69. It pays homage to 6ix9ine with vibrant colors and captivating cartoon characters. This disposable vape is not just an e-cigarette; it's a fashion statement that allows vapers to express themselves in a bold and unforgettable way.
With an 18ml vape juice capacity, the Dummy Vapes ensures a long-lasting and flavorful vaping experience. It is pre-filled with 5% nicotine salt e-liquid and designed for over 8000 puffs. In addition to the fixed nicotine that provides a strong hit, the ingredients of each flavor of e-liquid are different.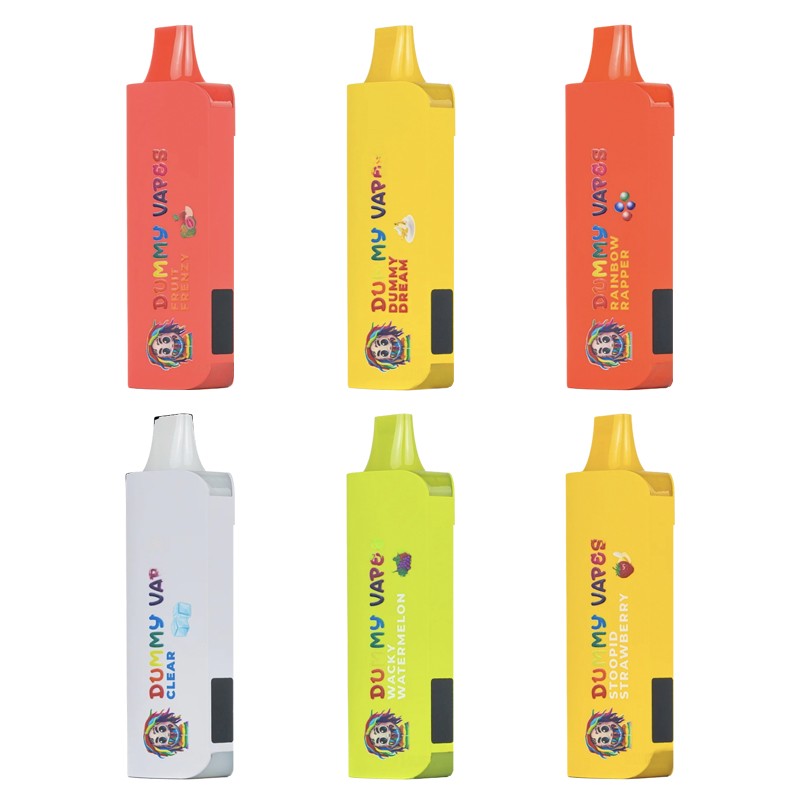 A Flavorful Journey
Classic tobacco, refreshing mint, or sweet fruit… There are twenty flavors for you to choose from. Without any exaggeration, each puff of each flavor delivers a burst of satisfying taste that will keep you coming back for more. You can boldly try any flavor, there is no bad taste.
Power and Convenience
Equipped with an internal 650 mAh battery, the Dummy Vapes 8000 Disposable Vape ensures that you won't run out of power during your vaping sessions. The quick recharge feature with a Type-C port allows for swift and efficient charging, so you can get back to vaping in no time. Additionally, the built-in display keeps you informed about the battery level and other essential information like e-liquid remaining.
QUAQ Mesh Coil Technology
This free shipping vape incorporates the latest QUAQ Mesh coil technology, which ensures a smooth and consistent vape every time. This technology enhances flavor delivery and provides a satisfying throat hit. Moreover, the device is automatically activated when you inhale, providing a hassle-free vaping experience.
In conclusion, Dummy Vapes 8000 is more than just a disposable vape device; it's a statement piece that offers style, performance, and convenience in one package. It must be a blessing in life for us to have it.