July 7, 2023
Flavor Guide For Whiff Hero 6000 Vape Kit
Introduction to Whiff Hero
The Whiff Hero Disposable Vape is a cutting-edge kit that sets new standards in convenience, performance, and flavor. With a pre-filled e-liquid capacity of 13mL and a powerful 400mAh integrated battery, this device offers an impressive 6000 puffs per device. Whether you're on the go or relaxing at home, the hero 6000 ensures you can enjoy a satisfying vaping experience without the hassle of constant refills or recharges.
Design and Performance
The common square box design has some unique and exquisite designs. The ergonomic mouthpiece is located in the middle of its top, with two circles protruding slightly like ears on both sides, and the front provides detailed brand, model, and taste information. The whole vape relies on beautiful colors to reflect the feeling of youth and joy.
The pleasing appearance attracts our attention, and the powerful functions make us deeply impressed. This vape rechargable has an output power of 7-12w, supports 1.0Ω mesh coil, and can fast charge with an input voltage of 3.6V. The best design is that the e-liquid contains 50mg nic salt, which greatly increases the throat hit and joy during the vaping process.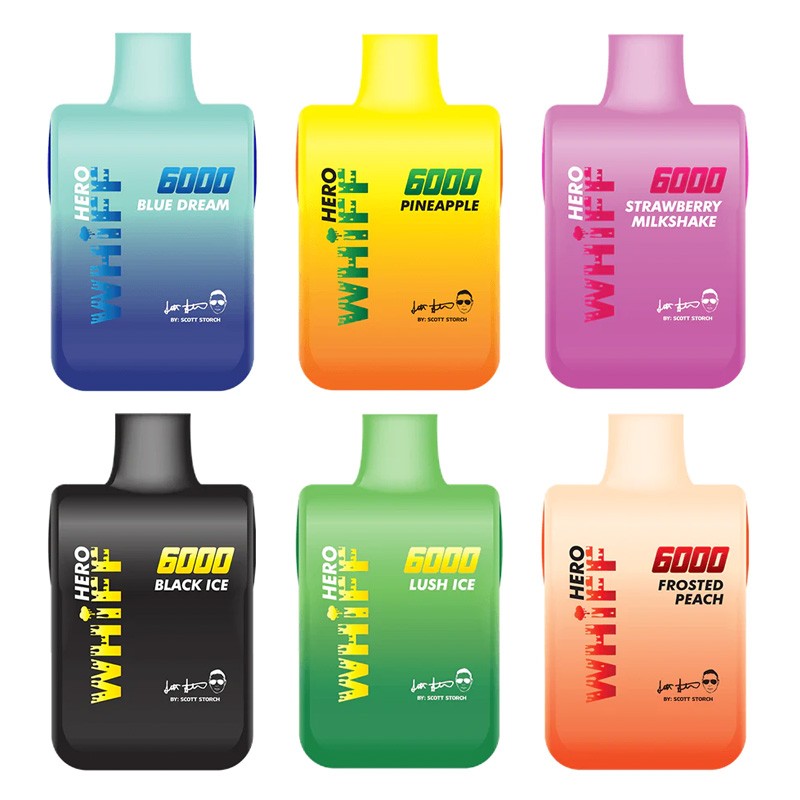 Impressive Flavor Selection
The whiff hero 6000 vape offers a wide range of delectable flavors to suit every vaper's preference. Here are some of the mouthwatering flavors available:
• Banana Ice: A perfect combination of ripe bananas and a cool menthol breeze, creating a smooth and icy banana flavor.
• Blue Dream: A tantalizing blend of mixed berries and exotic fruits, delivering a sweet and tangy taste with a hint of cooling sensation.
• Candyland: A whimsical mix of assorted candies, offering a burst of sugary sweetness and nostalgia with every inhale.
• Grape Slushie: A chilled grape-flavored slushie, reminiscent of a frosty beverage, with a burst of juicy grape goodness.
• Lush Ice: A tropical watermelon flavor infused with a chilling menthol breeze, providing a smooth and invigorating vaping experience.
• Mint Ice: A classic and refreshing mint flavor enhanced with an icy coolness, delivering a clean and crisp vaping sensation.
• Strawberry Watermelon: A delightful blend of ripe strawberries and juicy watermelon, resulting in a mouthwatering fruity combination.
• Strawberry Milkshake: A creamy and indulgent vape flavor featuring the taste of fresh strawberries blended with smooth milkshake goodness.
Where to Buy Vaping Products Online
To purchase the Whiff Hero 6000 and explore the wide range of flavors available, you can visit reputable online vape shops such as Vapesourcing. These online stores offer a convenient and reliable way to browse and purchase vaping products from the comfort of your own home.
Final Thoughts
With its user-friendly design, impressive performance, and exceptional flavors, it's no wonder why the hero 6000 has gained popularity among vapers. Whether you're a beginner or an experienced vaper, this device is sure to satisfy your cravings and elevate your vaping experience.
Maybe you are also interested in:
ebdesign airo max
funky republic ti7000