December 30, 2019
Is VOOPOO PnP 20 Kit Better Than PnP 22 Kit?
Lately, I found two decent vape pen kits by VOOPOO, separately are the PnP 20 and PnP22. They are very similar in appearance, only slightly different in size and battery capacity. In the following, I'm gonna make a detailed introduction.
VOOPOO PnP 22 Kit and PnP 20 Kit both present a sleek pen-style design. Powered by a built-in 2000mAh battery, PnP 22 can fire from 6-50W while the PnP 20 is powered by a built-in 1500mAh battery and its maximum output wattage is 40W. Moreover, they can intelligently identify the coil resistance and automatically match the power output for you. Charges are all done by way of a 5V/1A micro USB port, and the 2000mAh battery can be fully charged within 2 hours. In addition, there is a round LED indicator light surrounding the fire buttons of both kits which will show the battery levels in different colors. For safety, they come with a range of safety features, including switch timeout protection, short-circuit protection, over-discharge protection, overcharge protection, and over-current protection.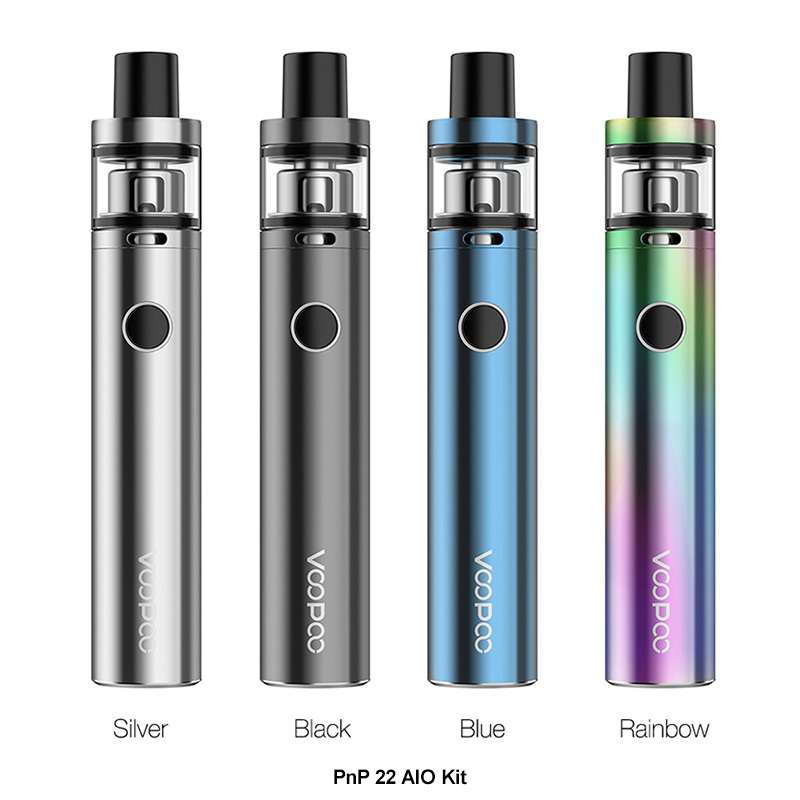 As for the tanks, both of them have a maximum capacity of 2ml and are refilled via a filling port under the top cap. Heating elements they use are different, PnP 22 Kit comes with a 0.3ohm PnP-VM1 Coil while the PnP 20 Kit includes a 0.45ohm PnP-VM3 Coil. But both tanks are compatible with most coils of PnP range, providing you with various options for vaping. At last, the airflow on both tanks is adjustable, just rotate the AFC ring on the base of the tank and you can tailor the airflow to your preference. All in all, the two PnP kits are worth a shot.
You may also like: uwell crown pod near me
Parameters as below
PnP 22 Kit
Size: 22.5 x 122(±0.5)mm
Material: Stainless Steel
Output Power: 6~50W
Output Voltage: 3.2~4.2V
Battery: Built-in 2000mAh
Capacity: 2ml
Resistance Range: 0.15~3.0Ω
Coils: Pre-installed PnP-VM1 0.3ohm Mesh coil; Power Range: 32~40W; Suggested E-liquid: Nicotine≤10mg
PnP 20 Kit
Size: 20 x 113(±0.5)mm
Material: Stainless Steel
Power Range: 6~40W
Output Voltage: 3.2~4.2V
Battery: Built-in 1500mAh
Capacity: 2ml
Resistance Range: 0.3~3.0Ω
Coils: Pre-installed PnP-VM3 0.45ohm mesh coil; Power Range: 25~35W; Suggested E-liquid: Nicotine≤25mg
Related blog: The Follow Up To Ratel-Mechlyfe Ratel XS Kit 80W